The tech industry: a male domain? The statistics say "yes." What are the possible causes? Why is this a problem at all? And what can companies and employees do to increase (gender) diversity? I talked about this with my colleague Sandra Kaupa, who is working hard for more women's power within our group of companies.
---

Jochen:

Briefly about you - who are you, where are you from and what is your current position with us?
Sandra: My name is Sandra Kaupa and I come from Karlsruhe. At All for One Customer Experience, I am responsible for marketing our marketing solutions in the CX area. I also work in the Employer Branding Team, where I support the strategic alignment of our employer brand and am responsible for planning and implementing measures.
Jochen: What does your morning routine actually look like?

Sandra: My day starts at 6 a.m. with a round of Family Snuggle Time. After that, we get ready for the day, which can be quite a debate with a five-year-old daughter who likes to wear rubber boots in the summer and doesn't believe in putting on lotion. I say goodbye to my family (usually) at 7 o'clock and can then devote myself entirely to myself. With a round of meditation & Breath Work on the terrace I find my inner balance and for the extra portion of power afterwards a Bulletproof Coffee (1 cup of coffee, 1 tablespoon of pasture butter, 1 tablespoon of MCT oil) must come before it then goes from 8 o'clock to the desk and I start the workday.

Jochen: In addition to your work in marketing, you are part of the group-wide initiative WOMEN@ALLFORONE. What exactly is behind it?
Sandra: The WOMEN@ALLFORONE initiative was founded to build a women's network within the All for One Group and thus provide a platform for exchange and further development. The initiative offers regular education, training and support for young talents or in balancing family and career. The aim is to strengthen the position of our women in the company and to promote their career development in the long term.
---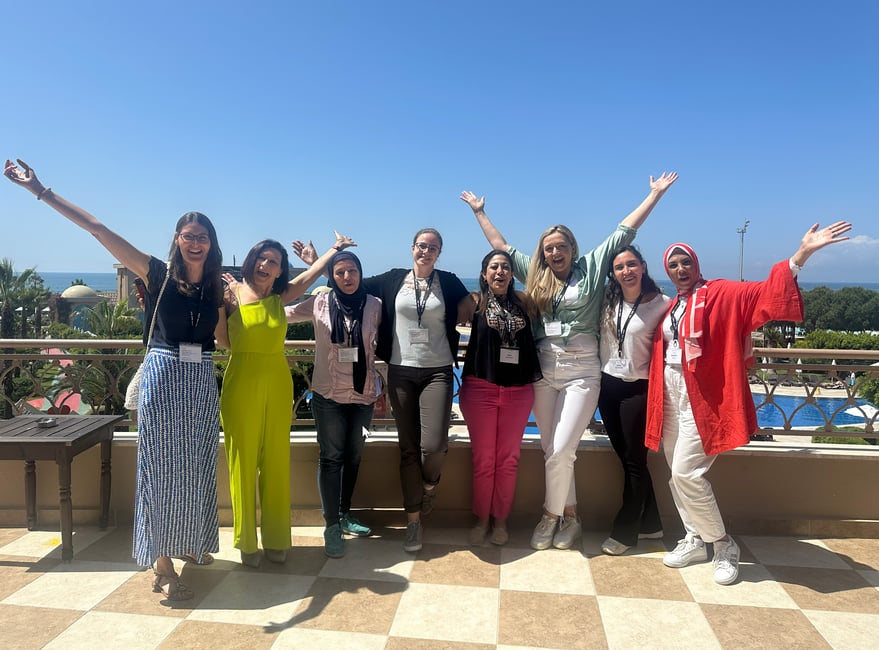 The WOMEN IN TECH initiative team
---
THE WOMEN IN TECH INITIATIVE
Jochen: There is another initiative, WOMEN IN TECH, which promotes more women's power at All for One. Is that related to WOMEN@ALLFORONE?

Sandra: Exactly, the WOMEN IN TECH initiative is directly related to WOMEN@ALLFORONE, which is led by our CX Market Unit. We would like to bring the charisma of the group-wide initiative even more strongly into our Market Unit. At the same time, we also want to support the group initiative as a whole with our commitment. It is a clear commitment for us, which we as a Unit support 100%.
POSITIVE EFFECTS THROUGH MORE DIVERSITY
Jochen: The percentage of women among first-year STEM students in 2021 was 34.5% (source). While this is a high, it is still far from "balanced." Computer science is even more unbalanced (21.8% female). Are there possible reasons why women might be less interested in the tech industry? And why is it important to have more women in this field?
Sandra: Diverse teams have a positive impact on innovation and business success. Studies show that companies with high gender diversity are 25% more likely to be more profitable than average, make better decisions, find more creative solutions, and achieve more successful results overall. The percentage of women in tech jobs is still low, and there are still many barriers that prevent women from choosing the tech industry. It's important for us to identify these barriers, raise awareness, and take action to promote diversity and equal opportunity in the tech industry.
Jochen: Can you give us an example of how you work together in the initiative, what you've already done to bring the initiative to life, and what else is planned for the future?

Sandra: In our initiative, we work to empower our female colleagues from within. We provide a platform for sharing, networking, and educational opportunities. This week, for example, we had an expert talk on "Mental Load" and how to find the balance between work and personal well-being.
---
We also want to tell the success stories of our women to the outside world to encourage other women and spark their interest in the tech industry



---
Jochen: Have you already had any initial success stories that have come out of the initiative?

Sandra: I was thrilled by the response our newly founded WOMEN IN TECH initiative has already received. We had direct talks with our international cooperation partner UnitedVars and also with SAP and women@DSAG, who directly support us and want to join. This week I will be talking to our Polish hub about joint activities, and our Egyptian female colleagues are also already involved. It's wonderful to see how our partners and colleagues around the world are sticking together and continuing to drive the important value #weareone. Because only together we are strong and can make a difference, beyond all borders.
Jochen: What made you personally decide to become part of WOMEN IN TECH?
Sandra: As a career-oriented woman, it has always been important to me to push the issues I am passionate about. I strongly believe that women play an important role in the technology industry and that perspectives and ideas are critical to progress. With the birth of my daughter, new responsibilities were suddenly added and time was reallocated. It was then all the more important for me to learn how All for One CX made it possible to combine career and family. It is a corporate culture that is characterized by trust, performance and flexibility. I'm super grateful to be part of it.
WHAT IS THE EMPLOYER'S CONTRIBUTION?
Jochen: How do you perceive All for One CX as an employer?
Sandra: At All for One CX, the WE ARE ONE value is reflected in the company culture. There is a diverse workforce and an open work environment that is characterized by a positive mindset. With this energy, we now want to think long-term and increase the proportion of women in technically relevant career fields such as software development. There is still work to be done across the market and we want to make our contribution.
Jochen: Our seven values are important to us. Which of them are particularly close to your heart?

Sandra: There are three values that I feel particularly connected to. The first is WE ARE ONE, which stands for corporate culture, diversity, inclusion and team spirit at all levels. The second is PURE ENTHUSIASM, because everything we do should come from the heart, so we can transcend boundaries. The third value is SERIOUS SUSTAINABILITY, because it is our duty to be sustainable and think about our fellow human beings and future generations to create a good foundation for our future.
Jochen: If you had one wish, related to your commitment, what would it be?

Sandra: I wish that companies would become more courageous. I firmly believe that leadership is also possible on a part-time basis and that the key to success lies elsewhere. Instead, the goal should be to involve employees, engage in open exchange and jointly create individual solutions that are promising for both parties. Fear of new ways has never been a good advisor.
Jochen: I would like to wholeheartedly endorse this wish! Thank you so much for the interview, Sandra.

Sandra: With pleasure :-)

---
Listen TO OUR PODCAST
For more on WOMEN IN TECH & Diversity, check out our Podcast (German language).
NETWORK WITH SANDRA
You have questions for Sandra or want to expand your business network? Then simply network with her on LinkedIn ;-)

DISCOVER OUR JOB OFFERS
You want to get started in IT consulting and are keen on driving the digital transformation of our customers and implementing exciting IT projects? Then take a look at our current job offers.