Working where others go on holiday. That quickly sounds more like contradiction or daydreaming. But it doesn't have to be that way. A good example is my colleague Christina. She works as an executive assistant at All for One Customer Experience and has taken the opportunity to combine project management and holiday feeling. Find out how she experienced her workation and what tips & tricks she has in store for all imitators.
Jochen: Just tell us how the idea of a Workation came about.

Christina: With pleasure. During my application phase, I was already made aware of the benefits and the opportunity to do workation. Since the possibility of combining holiday and work is not a matter of course, the All for One Customer Experience has already earned me plus points. In order to be able to cover our son's school holidays and to make the 'home office' more pleasant for us as a family, the idea came up to spend the holiday week in October in beautiful South Tyrol. The acceptance of my superiors was quickly done; however, then we still had to look for accommodation that could meet all requirements.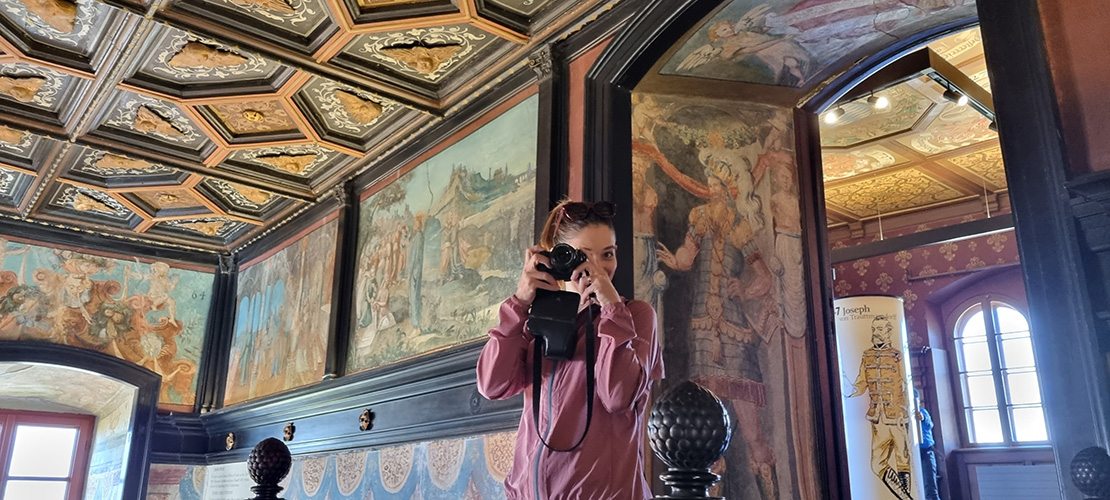 Jochen: What did you particularly look for in the accommodation?

Christina: A friendly workplace with stable internet was just as important to me as interesting leisure activities and vitamin D (read: sun) for all of us. We quickly found something suitable. Then it was time for the official application. That was relatively uncomplicated because the process is very well organised in the company. There is a separate information page on our SharePoint (note: our central storage location in the company for important documents and information), including a very practical checklist. After the application, all the formalities were then also taken care of, such as the official approval or the A1 form.

Jochen: And so after that, nothing stood in the way of a working week with lots of sunshine?

Christina: Yes, exactly. A few weeks later, we actually set off early in the morning for Eppan an der Weinstraße. The journey to Italy was swift and I have to say, not only our 11-year-old, tech-savvy son was relieved that the internet actually worked properly 😊.
A "TYPICAL" WORKING DAY
Jochen: How did you prepare for the week and how did you experience it then?

Christina: A "holiday" in Italy without pasta and co. is not a real holiday, so we first stocked up on the most delicious things. You can't work with a hungry stomach. As I also had a public holiday during the working week, I was able to combine work and family time perfectly. While my husbands started the day quietly and slept in, I enjoyed the sunrise from my workplace.
I am most productive early in the morning, so the flexible working hours were ideal for me. Having breakfast together or a walk to the nearby castle, made it possible to briefly interrupt working hours during breaks. During my meetings, I would then send father and son to a nearby lake for a bike ride. This allowed me to concentrate on work without exception and without anyone feeling neglected. An absolute extra point: my husband discovered cooking during the week for himself, so it was actually a real time-out for me.

Jochen: Sounds great! What do you remember most about this time?

Christina: My highlights of the trip were, on the one hand, this beautiful sunrise while I was sitting in front of the laptop and, on the other hand, the opportunity to concentrate only on free time and the beautiful nature after the work was done, without any household chores and tutoring for schoolwork.
WORKATION: TIPS & TRICKS
Jochen: I'm really getting into Workation myself. Do you have any tips and tricks for me on what I should keep in mind?

Christina: It is definitely important to think about when and where you would like to do the workation, as this requires a certain amount of lead time due to the formalities and planning. Find accommodation where you can work in peace and quiet - a double room in a hotel, for example, is less optimal for me than an apartment in the attic of an Italian hotel. A flat in the attic of an Italian farmhouse with enough space and rooms, including a terrace, suited me much better. Find out in advance what the internet connection is like and whether you have to pay extra for it, as Microsoft Teams in particular requires a good connection. It is also important to talk to your superiors and team colleagues in advance about how you would like to organise your working time during the workation. This is the only way to really create a holiday feeling without the work suffering.

Jochen: Speaking of work. Did you have the feeling that your team supported you 100 per cent in combining job and holiday?

Christina: Definitely. Freedom and flexibility in the work context are very important to me - and that's exactly what we live at the All for One Customer Experience. And last but not least: Mutual trust is the be-all and end-all here!

Jochen: Thank you for these sunny insights, Christina :-)
JOB OFFERS
You're really keen on Workation, but you've got the wrong employer? Here you can find jobs with Workation licence >