FROM Trainee TO Solution Architect
Sebastian started as a trainee at the All for One Group and now works successfully in the Managed Services department. The number of possible roles, topics and projects in Managed Services is impressively diverse. The Stuttgart native tells us about his beginnings and, above all, what really drives him personally.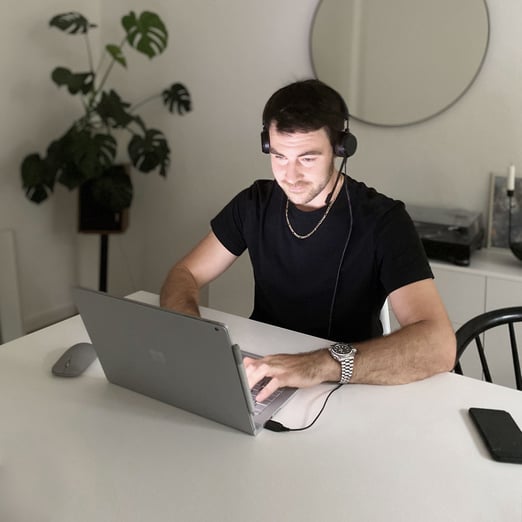 Sebastian has always been enthusiastic about technologies that change our everyday lives. The 29-year-old has already been able to realise this in the entrepreneurial environment through his acquired knowledge in various projects. He currently works in PreSales at the All for One Group and helps customers develop IT strategies with customised sourcing scenarios.
Everyday life in the PreSales segment is determined in particular by deadlines and by good organisation. Every customer enquiry is therefore a team effort. "We work with colleagues from all over the Group, which makes the work varied" Sebastian says enthusiastically and adds: "Of course, we are also responsible for presenting the results to the customer at the end. That is also an essential part of the job in PreSales."
New technologies and motivation
Sebastian has always been passionate about new technologies that can improve our everyday lives. For him, AI is at the forefront. But blockchain, the cloud and IoT beyond the hype are also important aspects. "Augmented reality in particular will gain in importance and will turn everything upside down," says Sebastian. The foundation for every area mentioned, however, is IT security, which is unavoidable. "The All for One Group has already implemented approaches for and with customers in all these topics today and it is cool that these successes are published internally. This way, every employee is part of the development," says the young solution architect.
After his studies, it was therefore clear that he wanted to combine his passion for technology with his professional career. Before he really took off, he first completed a trainee program in SAP consulting at the All for One Group. An optimal preparation for his current position. "I didn't know SAP before," Sebastian smiles. He emphasises that it was extremely exciting to work through the complete project cycle of a product presentation by SAP, but that it was still a big challenge for him at that point.
Free space and impressions from the Group

Sebastian always wanted to think outside the box and, alongside his career at the Group, developed a travel app that he currently runs independently. And this is how it works: Travellers are able to find new destinations around the world by uploading a picture. Image analysis algorithms thus form the technical basis. These derive features from the image. At the moment, the program is in a country accelerator at the "Hochschule der Medien" (HDM) and they are currently working on completing the open beta version.
Balancing your job and a start-up sounds easier than it is. The 29-year-old praises the All for One Group for giving him a green light right at the start of his start-up. "Transparency pays off on both sides here and the All for One Group has turned out to be more than a super employer," says Sebastian. When asked what he associates with our claim, "At home with the All for One Group", he answers: "For me, it means being able to pursue my work freely and also having a modern environment around me that promotes my creativity and willingness to work. For me, this aspect also goes beyond the professional everyday life and I think that is quite remarkable."
VACANCIES IN THE AREA OF MANAGED SERVICES
You can find all job offers of the All for One Group in the area of Managed Services here >
Want to learn more about Managed Services? Click here >