Interview with Thomas
A career like something out of a picture book: Thomas joined us 15 years ago via a dual study program at the DHBW Ravensburg, quickly took on management responsibility as an SAP consultant, taught ERP at the DHBW on the side as a lecturer and is now an experienced consulting manager in the area of cloud ERP. Read here how he got to this point, what is important in his job and why he imagined his first pilot project quite differently as a child.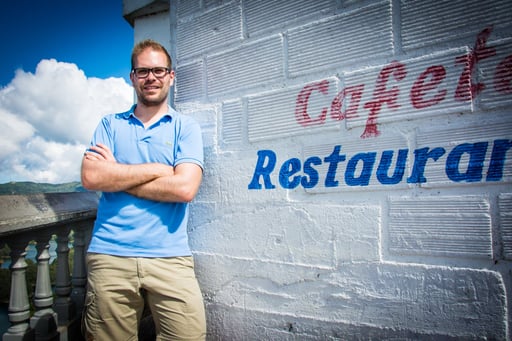 Jochen: Thomas, you have been advising clients on cloud ERP and implementation for many years. Why don't you give us a little insight into what that looks like?
Thomas: My daily business basically consists of equipping small and medium-sized customers with suitable ERP solutions that are operated by SAP in the cloud. In workshops, my team and I work together with our customers to find ways and possibilities to map their business processes appropriately in the ERP software. The focus is largely on business management issues and how the customer can gain the greatest benefit from the software. If requirements are not mapped within the SAP standard software, we develop appropriate solution concepts as consultants, which are implemented by our development department as customer-specific add-ons.
Jochen: But it's not always about implementation for you, is it?
Thomas: That's right. We don't limit ourselves to that, but also provide significant support in presales with our technical expertise. There we show interested parties what particular benefits they can derive from the use of our solutions and how they can accelerate their business as a result.
Jochen: What appeals to you about the IT environment in general?
Thomas: Personally, I am very tech-savvy.
---
"It's just fun to work with the latest innovative technology and use it to solve concrete business management problems for our customers."
---
Jochen: You specialised in cloud ERP consulting early on. Why?
Thomas: Especially in the cloud environment, you have your finger on the technical pulse. For example, our customers are automatically provided with new releases and functionalities every three months. And another aspect makes cloud ERP consulting very exciting from my point of view: In contrast to "classic" ERP consulting, our consultants are very generalistic and cover the broadest possible process area. As a consultant, you therefore have the opportunity not only to look after a narrowly tailored specialist topic as a specialist, but to see and understand the customer and his processes as a whole.
Jochen: You've been with us for 15 years now - so you're practically part of the inventory... what does home mean to you?
Thomas: For me, home means being there with all my heart. Because that's the way it is today: You usually spend more "active" time with your colleagues during the week than with your family. That's why it's important to work in a company where there's a good working atmosphere. I have been working with many of my colleagues for many years. But new colleagues are also very quickly accepted into the family environment by everyone.
Jochen: Apart from a coherent environment - what else is important to succeed as an SAP consultant? And how has the All for One Group supported you in this?
Thomas: Further development is a central building block in our career path. Ultimately, the SAP portfolio is changing very rapidly - but also the way we work together internally or with our customers - keyword "New Work". The All for One Group offers a wide range of internal and external training opportunities. Even if it can be a little "more": I had the chance to study for my Master's degree in Business Process Management while working.
Jochen: Is an SAP consultant your absolute dream job?
Thomas: To be honest. My dream job was a completely different one for a long time ;-) I once wanted to become a pilot.
Jochen: Do you regret having sacrificed "pilot projects" above the clouds for pilot projects in the IT business?
Thomas: Not at all. My current job has a lot of advantages: Flexibility, for example. When and where I work is largely up to me. I can work from my home office at any time and freely arrange my working hours...
Jochen: Well, ... when you're not at client workshops or a project is entering the decisive phase. Turbulence is part of a consultant's job, isn't it?
Thomas: Of course: where there is freedom, there are also obligations - the important thing, of course, is that the work results fit and the projects run successfully. And depending on the project phase, it can of course also be temporarily "turbulent", especially with go-lives around New Year. But all in all, I really enjoy my work in consulting at All for One.
Jochen: Fun is a good keyword: Do you know a good counsellor joke?
Thomas: When an SAP consultant gets into the taxi, the taxi driver asks: "Where do you want to go?" Answer: "It doesn't matter, I'm needed everywhere".
Jochen: And ... does that have anything to do with reality?
Thomas: As flat as the joke may sound, there are a few parallels to reality.
Jochen: Now I'm curious...
Thomas: On the surface, you can recognise the type of consultant: "hunger" for new things, healthy self-confidence and not being afraid of challenges. As a consultant, soft skills and methodological knowledge are in demand in addition to technical skills. A structured approach is particularly important. It's not just about answering special questions about the software, but about "taking the client along" in his organisational change. And that's exactly what distinguishes a good consultant from a very good one. 😊
VACANCIES FOR SAP CONSULTANTS
You can find all job offers of the All for One Group for SAP Consultants here >

You want to know more about the job as an SAP consultant? Click here >