Interview with Christof
Christof has been working as an Enterprise Workplace Solution Architect for All for One since April 2018. He takes care of everything around collaboration for customers. From Teams, SharePoint and OneDrive to a social intranet. In addition, he is the Trainee Coordinator for our Market Unit New Work. I talked to him about Bytes, Brains, Bricks & Boulder and how New Work is making itself felt on his desk.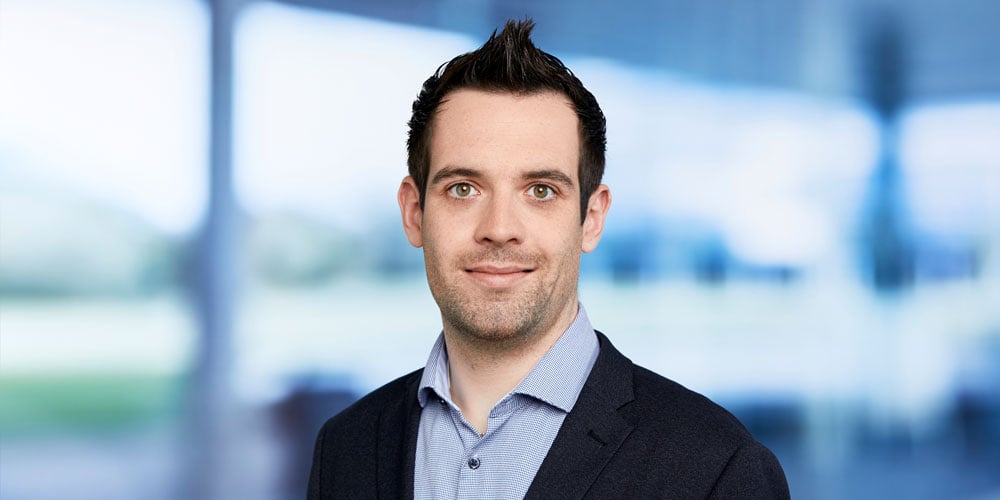 Jochen: Christof, let's start with the term New Work: What does it actually mean to you?
Christof: For me, New Work is not just a trend or a marketing buzzword. It is a philosophy, a question of mindset. If you type New Work into Google, you get over ten billion results, and New Work is just as diverse.
Jochen: Ten billion hits - not an order of magnitude you can work with well. How do you narrow down the topic?
Christof: For my everyday work, I break New Work down to three levels. Bytes, Brains & Bricks.
Jochen: Bytes, Brains & Bricks - what is meant by that?
Christof: It's actually quite simple. It's about providing the right tools (=bytes) for people's new ways of working (=brains) in an environment (=bricks) that is optimal for them. That's how you get the maximum effect in productivity.
Jochen: How are New Work and Modern Work practised in your team? For example, does everything now run digitally and via teams?
Christof: The All for One Group is still in a transformation process towards modern work and flexible working. For example, I am an early bird and you can reach me from 6:30 am. But it gets difficult after 15:30. Despite accurate calendar maintenance, colleagues still call at 18:00. They themselves are sometimes only reachable from 10:00. This has to get into the heads of colleagues. Microsoft Teams as a collaboration hub with persistent chat, voicebox and fast and transparent communication facilitates this everyday work. Nevertheless, one learning from the Corona crisis is that personal contact is enormously important. That is why we have now established monthly on-site appointments at our offices.
Jochen: And what does your workplace look like?
Christof: It only consists of Surface devices, iPad, iPhone and an "analogue" whiteboard, because I like to cross out my daily to-dos with a pen. I also have a digital to-do app to save tasks across the day and in case I think of something in the evening. Lately, I've also been using the digital whiteboard app from Microsoft to structure and visualise my thoughts. The templates and cross-device synchronisation are very helpful there.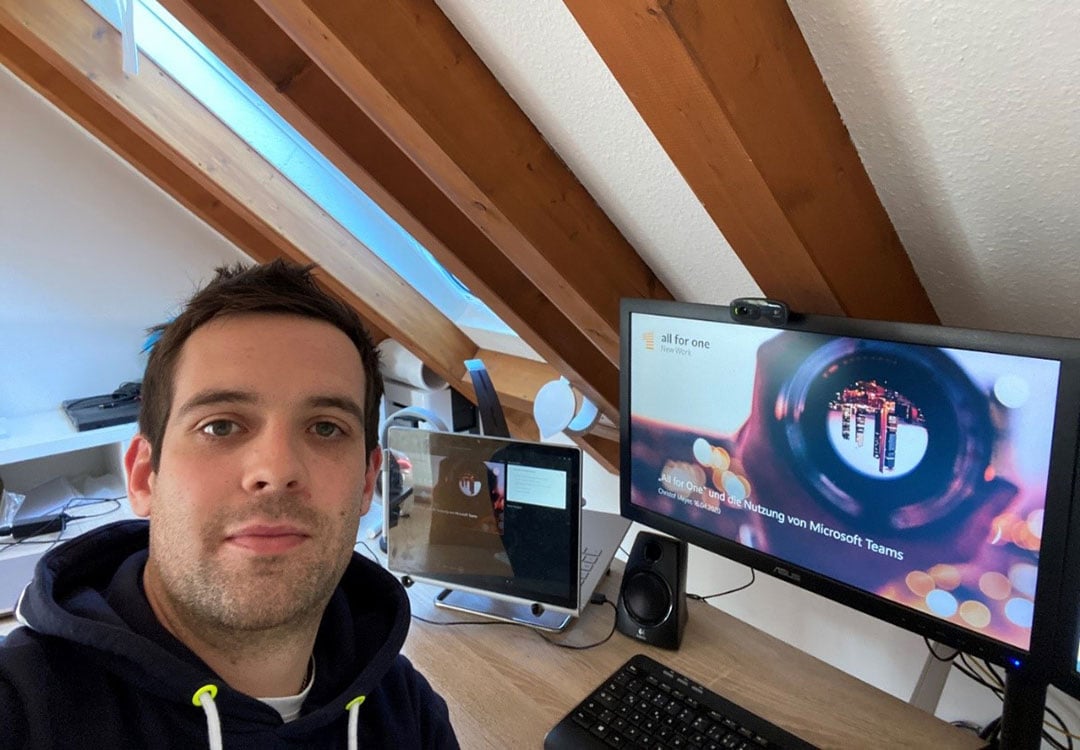 Jochen: I asked you to describe your working day in preparation for our conversation? You sent me this:
6:00 // Rise and coffee
9:00 // Video conference for coordination with customers
10:30 // Focus Time / TimeForMe
12:00 // Video conference to coordinate with customers and pack things
13:00 // Departure for the customer appointment
15:00 // Convincing customers that it's not just about new technologies
17:00 // Onward journey and overnight stay at the hotel
19:00 // Follow-up client meeting and preparation for the next workshop
Christof: Yes, that's basically what a typical day looked like for me - before Corona, I have to say. Nowadays, it's less on-site at the client's and more virtual.
Jochen: I noticed that you consciously take time for yourself in the mornings. What do you fill it with?
Christof: I am passionate about bouldering and solving problems on the wall. Personally, I think it's a great balance to everyday life as a consultant, to simply switch off completely, concentrate on the wall and work together on a solution.
Jochen: Mastering a route in bouldering has a lot to do with the right technique. As a consultant in the Modern Workplace, how much does technique matter and what else counts?
Christof: Of course you have to master the technique. And what is not yet perfect can easily be acquired. The soft skills, on the other hand, are harder to learn or can´t be learned at all. You have to be honest, creative, reliable and a team player for the job.
Jochen: What else is important?
Christof: One of the most important qualities is adaptability, because we have to deal with a wide variety of industries, a wide variety of maturity levels and a wide variety of people.
Jochen: There is always something new. Is that also what attracts you to the job?
Christof: Definitely! The fast pace of our industry, the constant updates, the complexity of the individual products and their interaction - it's all very challenging.
I love putting the different products together again and again like a big construction kit for the customers and complementing them with each other in a meaningful way.
Jochen: Last question: What does it mean to you to be "at home with All for One"?
Christof: To have the freedom and flexibility to work when and where I want. Having the different experts in the background to be able to fully advise the client and not only introduce technology, but also optimise the complete working process and environment and create added value for the client.
VACANCIES FOR New & Modern Workspace ExpertS
Job offers for New Work and Microsoft consultants can be found here >
You want to know more about the job as Microsoft & New Work Consultant? Click here >