Interview WITH Johann
Many students or recent graduates have no idea what the entry and career as an IT consultant can look like. We want to change that and introduce you to someone who has experienced it live. Johann joined the All for One Group as a dual student. He studied business informatics at the DHBW in Ravensburg. After his trainee programme, he started as an SAP Consultant Controlling at the All for One Group and reports on how it came to this.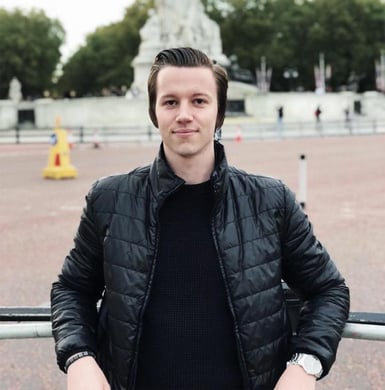 Jochen: Why did you decide on a dual study programme in business informatics?
Johann: The Business Informatics degree programme with a specialisation in Business Engineering combines business management topics with aspects of IT. I am interested in both. At DHBW Ravensburg, the degree programme also focuses on ERP systems and consulting, is close to my home and, from my point of view, offers a good learning atmosphere with small courses. You get to know your fellow students quickly and the lectures are also very pleasant. All of these were reasons for me.
Jochen: You dealt a lot with process optimisation during your studies. How did that fit in with the All for One Group?
Johann: I examined a business process from the consulting area at the All for One Group for weaknesses and optimisation potential and modelled it. This gave me a deep insight into an important process in consulting, I got to know many new colleagues, I got further professional training and I was able to develop good ideas for process optimisation.
Jochen: How did you come to All for One Group?
Johann: During my application phase, I studied the partner companies on the DHBW website. The All for One Group is listed at the top. Nevertheless, it didn't click immediately. To be honest, I found the name a bit strange at the beginning. A while later, I took a closer look at the company and realised for myself: This is a really exciting employer.
Jochen: What do you think speaks for a career in IT?
Johann: IT is the heart of many companies. Without IT, nothing works these days. What's more, IT is changing very quickly due to new customer requirements and new technologies. You learn something new every day.
---
"The high dynamics, combined with current topics, make the IT industry so exciting for me."
---
Jochen: How did you experience your start at All for One Group?
Johann: The first days started with a starter training. During this time, all newcomers got an overview of the All for One Group and learned everything they needed to know to get started. The days were also interactive and I was able to get to know new colleagues quickly. After the starter training, I immediately started working at the Memmingen office. The first weeks were characterised by very interesting training sessions by my trainer and other colleagues. There were many business trips to other locations. So the learning curve was already very steep at the beginning. What was very positive was that as a student you are treated like all other employees. And I felt like an integral part of the team from day one.
Jochen: What happened after the trainee programme and how did it prepare you for the job?
Johann: I was able to continue exactly where I left off - as an SAP consultant with a focus on controlling. I simply find the implementation of finance-specific problems in SAP directly at the customer's site exciting. That's why I chose this specialisation. The trainee programme began with various training courses at SAP SE and also internally at the All for One Group. Afterwards, I went out to the customer on SAP projects with my mentor. There I was able to apply the knowledge I had acquired and learn new things. The trainee programme was crowned by certification as an SAP consultant.
Jochen: Where do you sometimes get stuck professionally?
Johann: The All for One Group is growing and growing. Naturally, communication suffers from time to time. That's why you sometimes have to be patient until you reach a colleague or a concern is clarified.
Jochen: Where do you see your professional future and do you already know what the development opportunities in our company look like for you?
Johann: I would like to gain as much experience as possible in SAP projects and also very much like to support the All for One Group in its corporate development. There are various career models that clearly show me what is possible and what I need to be able to do. The career paths are challenging and diverse. Employee development is intensively promoted at the All for One Group. The career model gives me security because I know exactly that the right path can also be developed for me.
Jochen: Career is not everything. For many, it's also about the right environment. Is that right for you?
Johann: To put it in a nutshell: Since I have been with the All for One Group, I have really enjoyed coming to work every day. The working climate and the atmosphere are really great. When I ask my former fellow students what their companies are like, I can safely say that the All for One Group is right up there with them. The colleagues are always friendly and helpful. In addition to a serious approach to work, there is always something to smile about. Small breaks are used for conversations with each other or a small duel at the table football. It is precisely this mixture of a positive working atmosphere and challenging tasks in the SAP environment that motivates me and is simply fun.
VACANCIES FOR SAP CONSULTANTS
You can find all job offers of the All for One Group for SAP Consultants here >
You want to know more about the job as an SAP consultant? Click here >