Interview WITH Maike
Maike is a Senior Consultant in Supply Chain Management. Find out here how this fits in with her second job as a mother, what her day-to-day work between sales planning and supply chains looks like and what is important in the job.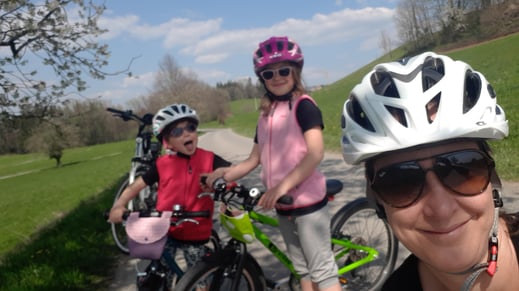 Jochen: Maike, let's just start with a cliché - do you know a good counsellor joke?
Maike: The Business Kasper Video comes to my mind: "I fly to Cologne and make myself important there. And you?"
Jochen: Does the "pompous image" from the video have anything to do with reality?
Maike: There are certainly also such consultants. However, the consultants I know have a great deal of expertise and experience and feel the need to pass on this expertise. I have the advantage of having been operationally active in a company myself. So I can put myself in my clients' shoes much better. So I know what I'm talking about.
Jochen: Your work focuses on SAP IBP. Can you briefly explain what that means?
Maike: SAP Integrated Business Planning (SAP IBP for short) is a cloud-based planning software for supply chain management. The solution combines a wide range of functions such as sales planning, demand planning and inventory management. What is exciting is that SAP IBP enables real-time planning in an integrated planning environment.
---
"I have to admit, when I started part-time again after my first parental leave, I was sceptical whether such a counselling job was also possible as a mum. But it works."
---
Jochen: Apart from the subject matter, what does your everyday work look like in concrete terms?
Maike: Since I work part-time, my typical working day often looks a little different from that of my colleagues. I work from home a lot, lead web sessions and also often make initial presales appointments over the phone. When advising on a pure cloud solution, this is very obvious. But on-site appointments with customers are also possible.
Jochen: How did you get into consulting?
Maike: I completed an IT degree and then first worked in a typical business administration job. As a supply chain planner, I got to know SAP as a user, was immediately appointed as a super user due to my background and ended up in support via an internal SAP APO implementation project. The optimisation of supply chain processes in SAP APO was incredibly exciting and I went from there to consulting. Which I haven't regretted to this day, even if it's not always easy on a part-time basis.
Jochen: SAP consultants working part-time - that doesn't necessarily correspond to the common cliché, does it?
Maike: I have to admit, when I started working part-time again after my first parental leave, I was sceptical whether such a counselling job was also possible as a mum. But it works.
Jochen: What makes it possible?
Maike: There are several reasons for that. Flexibility is of course the be-all and end-all when working alongside two small children. And I definitely have that at All for One. For example, there is the possibility to work from home. The basis of trust is right. I feel appreciated by my boss and colleagues as a team member and my working hours are taken into consideration. And of course this consideration goes both ways. If necessary and possible, I also arrange appointments outside my "regular" working hours. It is a give and take.
Jochen: Is SAP consultant your absolute dream job or are there also things that bother you?
Maike: At the moment it fits perfectly. If I were to increase the number of staff at some point and travel more... maybe travelling would be too much for me then. But you'll see when the time comes ;-)
VACANCIES FOR SAP CONSULTANTS
You can find all job offers of the All for One Group for SAP consultants here >
You want to know more about the job as an SAP consultant? Click here >