Almost exactly 37 years ago, my colleague Dirk entered the All for One working stage. On 20 July 2023, he made a very special appearance: His last day at work. A moving moment and reason enough for me to climb into the time machine with him and travel into his past, which raises many exciting questions. What keeps an employee with the same employer for almost four decades? What remains in memory from that time? What were the highs and lows? And how has the digital transformation developed over time? That's what I talked about with Dirk during his last month of work at All for One before his retirement.
---

Jochen: Hello Dirk. Before we travel into your past, tell the readers something about your present. What is your position at the All for One Group and what do you like to do most when you are not busy with your job?

Dirk: Hi Jochen, you're welcome! I'm currently a Sustainability Expert and, together with my great colleagues, I get to bring the topic of "sustainability" into our heads. Very exciting!
A lot of my free time revolves around music. I often meet bands like Tower of Power, Incognito, Maceo Parker, Earth Wind & Fire, Snarky Puppy and many others, so I'm often at concerts.

Jochen: I happen to know that you are also part of a band yourself ...
Dirk: Exactly! I play as a guitarist in my own funk & soul band ;-)
Jochen: In 1986, IBM launched the first laptop, Tim Berners-Lee published a document describing the basics of the World Wide Web, Diego Maradona made World Cup history with "The Hand of God" and the All for One Group did not yet exist in its current name form. How did you experience this year?
A "STUPID" HP TERMINAL AS FIRST WORKING DEVICE
Dirk: Yes, 1986 was an exciting year! That's when my story towards the All for One began. To be honest, when I started I was shocked at first, at least as far as the equipment was concerned. With an Apple, I had just finished my diploma thesis "Introduction of an enterprise software in an industrial company". At work, on the other hand, I was supposed to prepare the market launch of an enterprise resource planning system in front of a stupid HP terminal. Heavy! But less than four weeks later I had a PC there too, as the first ever in the company, otherwise we might never have done this interview (laughs). That's when I learned my first lesson: A little patience and perseverance are not wrong, and it sometimes takes time for innovations to really take hold in companies.
---
Heavy job everyday life in the 80s: A "portable" work device from HP
---
DIRKS ALL FOR ONE VITA
Jochen: To recapitulate your complete curriculum vitae would go completely beyond the scope of this article, but let's take a quick run-through ...
Dirk: My start towards All for One began in 1986 at AC Automation Center AG. That was already a gamble for me at the time, because those were turbulent times overall, because it wasn't entirely clear under which umbrella my employer would develop and in what form. But in the end, my willingness to take risks paid off and I was able to establish myself in a working environment that suited me and was up-and-coming.
After positions in marketing, PR and product management at AC, I had to accompany the management buy-out in 1995 and the IPO as AC-Service AG on the Neuer Markt in 1998. Since then, investor, public and corporate relations have determined my further career at AC and, from 2008, at All for One. Two years earlier AC-Service AG had bought All for One GmbH and formed All for One Midmarket AG from it in 2008. Many years later, in 2021, I was allowed to build up the "Sustainability" department at the All for One Group SE together with really great colleagues.
---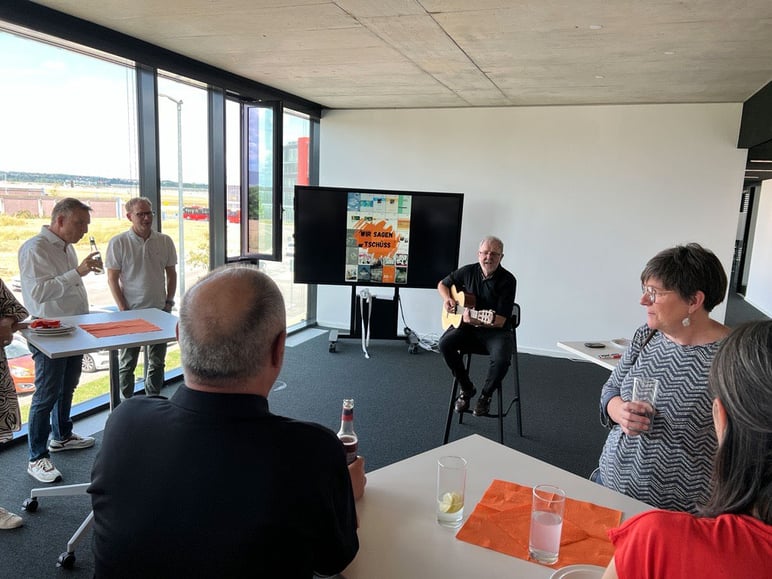 Dirk on his last day of work and in his musical element.
---
Jochen: 37 years with the company - how did you experience this time?

Dirk: Transformation - including our own - has simply always been part of it. And we were never owner-managed. I believe that both have shaped us to this day. Our self-image, how we act towards the market and our clients, and also how we deal with each other as colleagues. Commitment and clear, ambitious goals were enormously important right from the start - if you make an announcement, you have to deliver. On time, on quality, on budget.
Even back then, it was typical of All for One to be able to celebrate successes while at the same time admitting mistakes and addressing uncomfortable truths in an unvarnished way. I usually reported directly to the board and was also a guest at every supervisory board meeting for about 10 years. That had a great impact on me. Full transparency and the backing of hard facts were always enormously important in my job. At the same time, I learned to always remain loyal, even in major conflicts. This basic attitude characterises the whole All for One and is one of the reasons for its good reputation.
THE DIGITAL CHANGE
Jochen: Technologically speaking, there are worlds between 1986 and 2023. How has the IT environment changed the most from your point of view?
Dirk: In the 80s, too, people were already "going digital". However, software and hardware were like Siamese twins. Woe betide anyone who wanted to switch from HP 3000 to DEC VAX, IBM S/36, S/38 or Nixdorf 8870. For the IT industry, such silos were temporarily a veritable gold mine. The advent of open systems put an end to this. Today, it is much more difficult to earn good money here. To scale, IT services have to be provided "industrially", including nearshoring. Our CONVERSION/4 services could hardly illustrate this development better.
Programming, on the other hand, is experiencing a renaissance, albeit under different circumstances. Whereas in 1986 we had to pay meticulous attention to expensive system resources when coding, much has changed here today from a sustainable point of view, because intelligent programming is decisive for the CO2 footprint of a software. In general, "own intellectual property", i.e. own software development, is also on the rise again among IT service providers. The next big innovation push - the broad application of artificial intelligence in the context of business software - is likely to provide further impetus, and not only here. In short, the digitalisation and transformation journey is a never-ending story. I remain very curious to see in which direction it will develop!
Jochen: Have you experienced highs or lows that have stayed very present in your mind?

Dirk: You bet! When I think of the highlights, I first think of the management buyout and the IPO. Looking back, this is probably how we laid the foundation for our independence today. I will never forget the legendary CeBIT trade fairs, the founding of United VARs, our takeover of Steeb from SAP, our start in Istanbul as well as my recent encounters with the many colleagues from Egypt. The majority of our software developers there are women. In the group, on the other hand, we only have about 19% women in the technical professions. But above all this: no matter where I go, I meet countless exciting customers and partners for whom we are working today. It is unbelievable how much we have grown here in the past few years! It is in the nature of things that so much light must inevitably also bring shadow. Of course, I have had to digest serious disappointments, including human ones, as well as setbacks. For example, our equity story in the 1998 IPO around a self-developed business software failed miserably. It took a lot of persistent investor work before the capital markets understood our change and we had reached the level of the issue price again. The capital market simply has an elephant's memory.
WHY SO loyal & faithful?
Jochen: Remaining loyal to one employer for such a long time is hardly imaginable today. Almost every second professional from Generation Z is open to changing jobs. So I ask myself: What has kept you with us for so long?

Dirk: At All for One we have almost the same challenges as a DAX company, but we are much leaner. The scope for each individual is therefore much larger. All of our jobs could hardly be more exciting. Those who were looking for a lot of internationality still had a hard time here a few years ago. Thanks to our strong global growth, however, this has changed fundamentally. Today, English is increasingly becoming the second corporate language alongside German. And anyone who wants to change professionally can simply use our "internal move programme". The internal move of my colleague Sarah Sailer is a great example of this. In short, the perspectives have always been decisive for me, and they have always been incredibly good at the All for One Group.
Jochen: Looking back, what would you give your ME from 1986 to take with you?

Dirk: Even at a young age, more composure and a little more patience now and then wouldn't have done me any harm. Persistence has often helped me, stubbornness not always. Eight roadshow appointments in one day in cities like New York, San Francisco, Boston, London or Paris are really hard to manage by subway. It's definitely better by cab.
WITHOUT SUSTAINABILITY EVERYTHING IS NOTHING
Jochen: In the meantime, you have dedicated yourself to the topic of sustainability. How did that come about?
Dirk: It was time to take a fundamental look at our investor relations work. Accounting for assets, liabilities and equity is only one thing. It only really comes together with the completely different accounting of ESG issues, such as greenhouse gas emissions. Or in other words: without sustainability everything is nothing. The chapter on corporate accounting is being rewritten. This broadening of horizons has fascinated me enormously and will also determine the "stakeholder view" much more in the future.
Jochen: Our seven values are important to us. Is there a value that is particularly close to your heart?

Dirk: For me, our values form a holistic canon in which I can fully find myself. That's why I find it difficult to highlight individual ones. But perhaps this much: "Entrepreneurial Mindset" in combination with "Serious Sustainability" appeal to me in particular.
Jochen: What's next for you?

Dirk: In times of remote work, it is not easy to say goodbye personally to so many valued colleagues and business partners. Moreover, I will remain connected to the topic of sustainability in the team even after my scheduled handover and will be available as a contact person in the background. So it will be more of a farewell in instalments, or perhaps a new beginning? In any case, there is plenty of room for it. So far, I have refrained from making new plans for the future. Instead of being too often already scheduled, I would like to be much more flexible and stay connected to the huge All for One Community not only as a shareholder. In any case, I'm taking my familiar mobile number with me into "retirement" without any changes ...
Jochen: Good to know. I'll make a note of the number right away :-) Thank you very much for the interview, Dirk!

Dirk: It was a pleasure to meet you, Jochen :-)

---
CONNECT WITH DIRK
You have questions for Dirk or want to expand your business network? Then simply network with him on LinkedIn ;-)

DISCOVER OUR JOB OFFERS
You want to get started in IT consulting and are keen to drive the digital transformation of our customers and implement exciting IT projects? Then take a look at our current job offers.