The topic of sustainability is on everyone's lips. Vegan schnitzels, shoes and shampoos are venturing out of the alternative-inspired eco-drawer. But what about the world of work? And how do sustainability and digitalisation fit together? Within the framework of the Value Months, the All for One Group is dealing intensively with the topic of sustainability. There are many ideas. I would like to briefly introduce a very specific one that has made a lasting impression on me because it links ecological and social aspects. It is about a company that lives social and green IT like hardly any other in Europe. I spoke with Johannes Eisele, Partner Manager at the AfB Group, about the concept of the AfB Group and the long-standing cooperation with the All for One Group.
Jochen: Johannes, before we talk in detail about your employer, a personal question: Why is the topic of sustainability close to your heart?
Johannes: I think everyone should do what they can for people and the environment. And if you can combine that with your daily work - all the better! But also in my private life I try to produce as little plastic waste as possible and not to buy everything new, for example toys for my children, electric appliances, etc.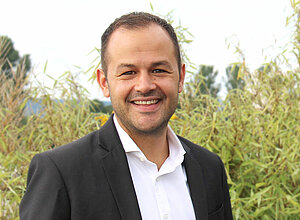 Johannes Eisele | Partner Manager AfB Group
thinking sustainably about IT-Hardware
Jochen: What exactly does AfB do and what exactly is behind the term "Social & green IT"?
Johannes: "Social" stands for inclusion. AfB offers high-quality IT services for companies and thus creates jobs for people with disabilities. "Green" stands for the environmental idea. IT hardware in itself is not particularly sustainable. Our colleagues do their utmost to ensure that used company equipment does not end up in the rubbish after data deletion, but is given a second life. This reduces CO2 emissions and saves resources worldwide, as fewer new devices have to be produced.
Jochen: You advertise with "certified IT remarketing". What is behind this term?
Johannes: Data is valuable and company data is highly sensitive. Our partners, such as All for One, trust us with their IT devices along with the data carriers they contain. We delete them in accordance with the certified principles of the BSI (German Federal Office for Information Security). We provide proof of data destruction to our partners. Only then are the devices refurbished and resold with the latest operating system. Many of the devices are also donated to charitable organisations or schools.
Jochen: How did the partnership with the All for One Group come about and what exactly does this cooperation look like?
Johannes: We are celebrating 10 years of partnership between our companies this year. All for One was looking for a sustainable way to recycle their redundant IT and found AfB, which we are very happy about.
Jochen: Can you express in numbers what the impact of our partnership has been?
Johannes: Gladly. In the course of the 10-year cooperation, All for One handed over 1198 IT devices to us, of which we were able to remarket 89%. This has saved us over 47 tonnes of raw materials and reduced CO2 emissions by more than 111 tonnes. This is a really great contribution from your company.
Green IT – arrived at the management level?
Jochen: From your point of view, to what extent has the topic of sustainability reached the management floors of companies?
Johannes: AfB offers all IT partners the possibility to prove the individual impact of IT remarketing via AfB in the form of eco-key figures. Many partners use this for their CSR reporting (editor's note: CSR = Corporate Social Responsibility). We see that the demand for this is increasing, and not only from the CSR departments. The management also increasingly appreciates this offer. Therefore, this year we updated the life cycle assessment study on which our key figures are based together with the climate protection organisation myclimate and added new categories. We can now report not only the saving of raw materials, energy and greenhouse gases, but also the saving of water consumption and the reduction of toxic effects on humans and water.
Jochen: Energy giants that make their money mainly from fossil fuels advertise wind power widely. Fast fashion companies celebrate their sustainable cheap shirt offers - unfortunately, this is not uncommon and classic greenwashing. How do you stand out from this label fraud?
Johannes: We are definitely not greenwashing with our services. Every piece of IT equipment that we reuse protects the environment. And every order helps AfB to secure jobs for our colleagues with and without disabilities. Equipment that we can no longer remarket because it is too old or defective is dismantled and sent for professional recycling. This is an important form of intra-European raw material recovery. And every company that cooperates with AfB also makes a valuable contribution to "Social & Green IT".
keeping Diversity & social responsibility in mind

Jochen: I would like to look again at the social aspect. A lot has been done in the area of conclusion. Nevertheless, people with severe disabilities still have great problems finding their way into the labour market. What do you answer to a manager who is sceptical about increased inclusion in his own company?
Johannes: Statistics have shown for years that job seekers with disabilities are on average better educated than unemployed people without disabilities. But they have to look longer for a new job. In times of a shortage of skilled workers, that's really unacceptable, don't you think?
Jochen: I wasn't aware of that at all. And I totally agree with you - it's hard to understand!
Johannes: In general, however, it has not been "just" about the inclusion of people with disabilities for a long time, but about diversity in companies. AfB employs people between 20 and 65 years of age, of different genders, skin colours and nationalities. This human togetherness and togetherness is strongly lived at AfB. This can only be good for a company.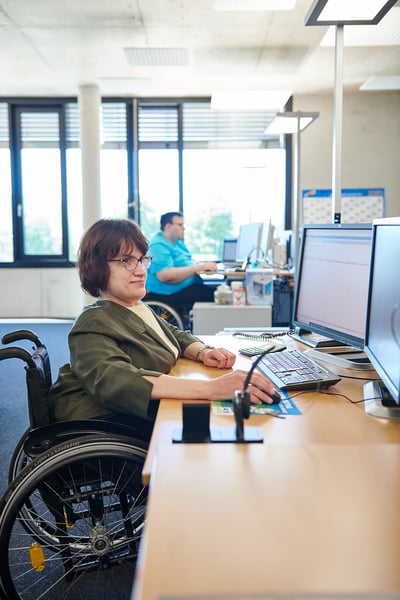 Working at the AFB Group
Right to reparability as a wish & trend topic
Jochen: Where do you see the big trends in sustainability? What else is in store for us in the future? What long-term goals are you pursuing as one of the role models and pioneers?
Johannes: One of our projects, which we are supporting together with the Fraunhofer Institute, Leuphana University and Shift, deals with the modular design of smartphones. The background is that so-called rare earths and conflict minerals are needed for the production of smartphones. Many of the materials could be wonderfully recycled if the old smartphones were disposed of properly. According to a bitkom study, however, Germans alone hoard almost 200 million old mobile phones in their drawers - and the number is rising. If there were a design that was cool and modular, that you could upgrade yourself every two years, for example by installing the latest mobile phone camera, then there would be significantly less electronic waste. Of course, the design would have to be hip and go down well with consumers. In any case, as raw materials become scarcer, the demand for a right to reparability will gain momentum. Otherwise, we are curious.
Jochen: Johannes, thank you for the interesting conversation!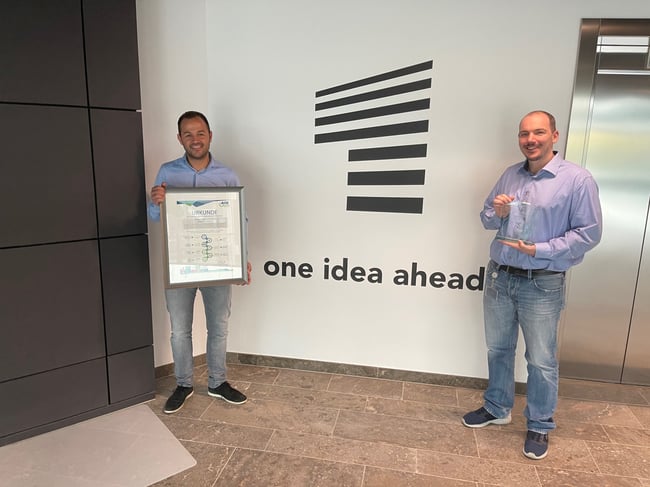 Johannes, AfB Group and Tomas, All for One Group at the presentation of the certificate and the award
Johannes: With pleasure! I would like to take this opportunity to thank the All for One Group for the fruitful partnership. We look forward to working with you in the future to promote inclusion and protect our environment. Thank you for walking this path with us.
#weareone
By the way: Here they are – our values.
learn more about our values
What is behind each of the seven values? Find out here >
vacancies
Do we match your values? Then apply for a job with us. Find all the job offers for you here >