Seeing SuccessFactors as an opportunity - at the latest after the conversation with my colleague Gunnar, it is clear to me that an SAP Cloud product not only offers opportunities to customers, but can also be the springboard for IT-hungry consultants. Find out what fascinates Gunnar about SAP and HR and what a talent development programme has to do with hiking here.

Jochen: To start with, can you tell us a little bit about yourself?
Gunnar: Sure. My name is Niels-Gunnar, but I'm usually just called Gunnar. I originally come from the far north - Lübeck, to be precise. I now live in Munich, where I have been working as a SuccessFactors Consultant for two years and am responsible for the Performance & Goals and Compensation & Variable Pay modules.
---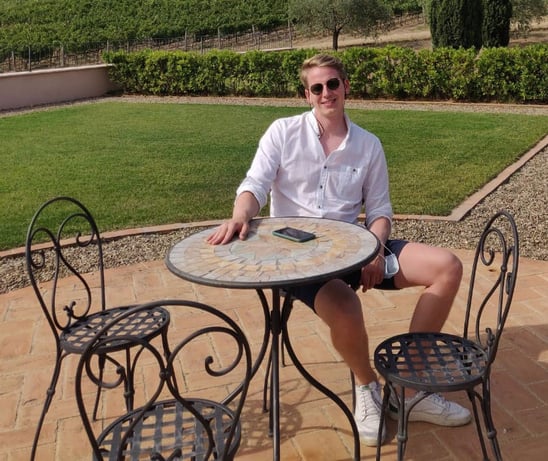 Niels-Gunnar| SAP SuccessFactors Consultant
---
Jochen: I admit that I only know SuccessFactors from the user side. What does everyday project work with SuccessFactors look like?

Gunnar: I usually work on several projects at the same time, which are of course in different phases. At the start of a project, the first thing is to evaluate the scope of the project, i.e. to ask specifically what the customer's requirements are, what the current processes look like and above all - are the processes up to date? And finally, do they fit well with SuccessFactors or do we have to rethink?

Jochen: Rethinking everything - some customers don't like to hear that, do they?

Gunnar: There are usually listeners for good arguments ;-) I always recommend seeing the introduction of SuccessFactors as an opportunity to rethink processes and make them as lean as possible. In the further process, there is then close coordination with the customer, which for me means: configuration, testing together with the customer and acting in an advisory capacity, and at the same time managing their common workstream. So all in all, it's usually a very varied day that has one or two surprises in store.

Jochen: Apart from the daily project miracle bag - what else fascinates you about SAP consulting and specifically about HR?

Gunnar: What fascinates me most about SAP consulting is getting to know new companies with different structures and cultures. This allows me to constantly expand my knowledge so that I can extract important lessons and best practices for further projects. What I find particularly appealing about HR is that you work for the most important asset of a company - its employees. An employee-oriented IT system can be very helpful in making processes transparent, finding the right talents in the company and, of course, ultimately retaining them. The employee should be the focus here, which is why the new term HXM (Human Experience Management) is a good approach in my view.

Jochen: What do you think you need to be successful as an SAP consultant?

Gunnar: First of all, you need to have the right attitude and enthusiasm. Flexibility and creativity, as well as social and communication skills such as empathy and active listening, are also important building blocks for successfully interacting with clients. In terms of expertise, it is generally very helpful if you are familiar with HR processes. My previous experience in internal HR helps me a lot. Furthermore, it is very helpful to be IT-savvy, then you will also be able to familiarise yourself with SuccessFactors.

Jochen: Do you have an IT background in SuccessFactors yourself?

Gunnar: No, I acquired the IT knowledge for SuccessFactors myself. Of course, a certain ambition is not entirely unimportant for this.
WHAT IS TYPICAL FOR EMPLEOX?
Jochen: How do you perceive Empleox as an employer?

Gunnar: I joined Empleox two years ago and I was particularly impressed by the openness, flexibility and helpfulness.

Jochen: Your colleague Julius told me something similar in the interview. Have you agreed on something?

Gunnar: Haha! No. That's just how it is here. Even the application process was great, because I had the impression that they really wanted to get to know me and were curious to see what I was made of. There's also a really cool spirit here, starting with the management, which does a very good job in terms of communication and takes all the employees with them. This creates a cool cohesion. In addition, you are encouraged to get involved at any time, think about things in a new way and thus make lasting improvements.
---
The culture of making mistakes isalso great; there is the courage to try out new things and to fall flat on your face or to discard them again.

---
Jochen: Trying things out in the direction of the market and the customer is certainly great, but is there still time for your own further development?

Gunnar: Definitely. And that is one of the most important things for me. If I were to tread water, I would be doing my job by the book and I would quickly lose interest in it.

Jochen: What are the possibilities?
UP TALENT: A GROUP AS A CAREER Booster
Gunnar: On the one hand, there is the UP Talent Programme, where I have the honour of being accepted into the programme. And on the other hand, you can get involved in internal projects. Of course, I always have the opportunity to pursue different careers.

Jochen: You might have to explain Up Talent a bit more precisely ...

Gunnar: The Up-Talent programme is a two-year qualification programme in which young and talented employees of the Group are specifically promoted to prepare them for new challenges and roles in the All for One Group. First, you go through a selection process from which, for example, 12 employees from various disciplines were selected this year. This group then accompanies you for two years. The first year focuses on development areas and self-reflection and the second year focuses on professional development and methodological skills.

Jochen: How does that help you?

Gunnar: The programme offers extensive opportunities, which are a very good basis to develop further. In the selection process, I compared the two years to a hike. You learn a lot about yourself, determine your point of view and then have the opportunity to equip yourself with very good equipment on this two-year hike, so that you can then walk the big challenges and stages on your own. And one of the most important things is that you are not alone on this hike.
---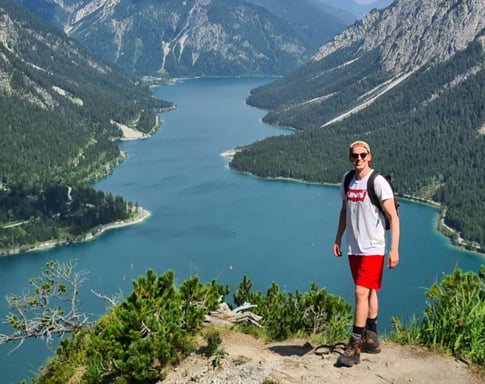 ---
Jochen: You allude to the group idea ...

Gunnar: Yes. Because the programme is set up across the Group, it naturally offers great opportunities for interdisciplinary networking within the All for One Group. Completely different disciplines come together here, so that we can learn a lot from each other in this Up Talent group and hopefully also achieve a lot in the Group.

Jochen: Is SAP consulting your absolute dream job?

Gunnar: Dream job is a really big word, I would only have fulfilled it if I had become a professional footballer, but I clearly didn't have the talent for that. I really enjoy my job because it is very varied and offers me a lot of flexibility. I also have local flexibility, so I can work from Lübeck for a few days or weeks at a time. That is really very valuable for me.

Jochen: Are there things that specifically bother you about your job?

Gunnar: What sometimes bothers me is that of course you can't design a Cloud product completely the way you want, you have a very large construction kit and I can put the bricks together very individually. But I can't add completely new bricks to the set. But maybe sometimes that's a good thing ;-)
We
ARE ONE
Jochen: "We Are One" is an important part of our values. Is this propagated cohesion just a slogan for you or do you actually perceive it in the group?

Niels-Gunnar: I can confirm that. There is a super team spirit, a productive working atmosphere that is characterised by praise, recognition, but also constructive criticism. In addition, you have a lot of freedom to work on topics that you enjoy and to learn new things. In this environment, I was able to grow a lot personally and professionally in the last two years.

Jochen: Thanks for taking the time for me Gunnar!
Vacancies for IT & HR Enthusiasts