As All for One Türkiye celebrated its 10th year anniversary this October, so did our colleague Ay
ş

e A

şç

ı

ba

ş

ı

.
Ay
ş

e was hired as the very first employee of All for One Türkiye back in 2013 and had the opportunity to grow with the company, and be a witness to all the changes, challenges, and improvements the company went through in the past decade.

We invited Ay
ş

e for a chat on our Careers @ All for One Podcast last month, where she kindly shared her own and also All for One Türkiye's story with our hosts Rafael Wedemeyer and Sharina Geßner.
While the episode is recorded in German, we wanted to share the highlights with you in English. You can hear the original episode here.
---

Rafael: Hello and welcome to a new episode of the Careers @ All for One Podcast! This time, we have a very interesting guest with us. Our guest is joining us not from Germany this time, but actually from Türkiye, and in fact Istanbul. For all the listeners who may not know this: All for One Group is an international company with lots of locations: about 30 locations in Europe, but also locations in Poland, Egypt, Austria and Türkiye.
Rafael: And with that, we'd like to say hello to Istanbul and to our guest, Ayse. Hello, Ayse!
Sharina: Hello Ayse! We already had a chance to get to know you a little bit, but could you introduce yourself to our listeners and also tell us about what you do at All for One?
Ayşe

: Yes, of course. My name is
Ayşe Aşçıbaşı

. I am 36 years old. I was born and raised in Istanbul. I went to a German high school in Istanbul. There I first learned German. That's how my history with German as well as German culture started. Then I studied business informatics in German in Istanbul.

Rafael: Wow!

Ayşe: Yes, it is quite out of the ordinary. When I tell people that in Turkey, they always ask me: Really? You did your studies in German? Yes. In Istanbul? Yes. (laughs) During my studies I did an exchange semester in Germany for one year. It was in Reutlingen. Coincidentally, it was near Filderstadt (our headquarters). At that time, of course, I had no idea I would one day work at All for One. After my university studies I started to work as a Jr. SAP consultant at a Turkish consulting company. There I implemented my first SAP module "Student Lifecycle Management" and worked with the module in the first implementation project in Turkey. After the go-live, I requested to incorporate the second module which is mostly used. With this I started to work in the module SD (Sales & Distribution). And now of course I am an SD Consultant at All for One.

However, my dream at that time was to do my master's degree abroad. So when I receive my acceptance from the University of Bern in Switzerland in 2011, I resigned and moved to Switzerland. I studied there for a year and a half and graduated with a Master of Science Business Administration with focus on management. After graduation, I came back to Turkey. After returning, I started working at All for One Turkey in 2013. And since then I have been working here at All for One.
having a job interview in a hotel lobby
Rafael: And we heard that you were the very first employee who was hired at our office in Istanbul, in Turkey. Is that right?
Ayşe: Yes, that's true! I was the very first employee here.
Rafael: That's a big anniversary to celebrate along with the 10th year anniversary of All for One Türkiye!
Ayşe: Thank you!
Sharina: Can you tell us how you first heard about All for One, and how you decided to apply and then eventually became our first colleague in Türkiye?
Ayşe: That's the thing - I didn't apply. When I was doing my job research, a headhunter reached out to me over LinkedIn and she told me about this new firm "All for One Turkiye" and about this new job. So then I had this overview of this new company and the job, and I thought "Okay, it's a bit of an adventure. The company does not exist yet. But there is a plan." So I took a chance and said yes to meeting them.
My interview took place in a hotel lobby. (laughs) Detlef Mehlmann and two colleagues at the time conducted the interview with me. All for One Turkey as well as the development plan was told. This made me very excited, and I accepted the job. So I have been with the company since its inception. I have seen the whole development as well as the history of All for One Türkiye. I am proud of it.
Rafael: It must have been very exciting for you. You were the first person to join the company, and then you're aware that you are the very first colleague and others started joining, and eventually the company grew quite a bit, didn't it?
Ayşe: Yes, definitely.
Rafael: You were born and raised in Istanbul, and now you live and work there as well. But you also have lived and studied in Switzerland, you studied some in Germany, but eventually you moved back to Istanbul. So, what makes this city so special for you, why did you decide to live there?
Ayşe: Well, Istanbul is my hometown. I can't change or forget that. My whole family, my friends and all my favorite people all live in Istanbul. It's important for me to live in a city where all my loved ones are. Istanbul is also a Mega-city, it's beautiful and chaotic. (laughs) It's definitely worth it to live and work here.
Belonging to the group
Sharina: We talked about how the All for One grew over the years, and you kind of watched as a team was formed around you. But with a new location, and being only a small number of people working in Istanbul while most of your colleagues were based in Germany, what was your experience in terms of "belonging" to the Group?
Ayşe: That was definitely a challenge. Maybe it was a bit different for me, because when I first started, I was able to travel to Filderstadt and work from there for the first two months. I got to meet and work with our colleagues there in person, and when I returned to Istanbul we remained in close contact and had our weekly meetings etc. That's why we were pretty much in contact with each other daily, and I did not feel like an outsider.
Sharina: It's great to hear that you were able to spend that first two weeks with your team in Filderstadt. I'm sure that was a great way to bond as a team.
Ayşe: The reason for that was, well, because we didn't have an office in Istanbul yet! (laughs) Because the company was very new, and the office was still in construction.
Rafael: At least you didn't work from a hotel, right?
Ayşe: No, no we didn't. (laughs)
Sharina: Besides finally having an office, there were surely lots of other changes over the years. What have been some of the most significant changes you've seen over your 10-year career with us?
Ayşe: Yes, of course. In the beginning we were a very small team. We were only three colleagues when I first started, and now there are about 150 colleagues working at All for One Türkiye. Also, as a company, we switched our communication language from German to English. It used to be that we only spoke in German. We still use both languages, but now we mainly use English for company-wide communications.
Also in the very beginning, there wasn't an office in Istanbul, but over the years we relocated 3 times. And our third and latest office, based in Maslak, is the nicest one yet. Its design resembles our main office in Filderstadt, which I really like.
Rafael: I remember from my video calls with our colleagues in Istanbul that you can also see the Bosphorus from the office, that's so nice!
---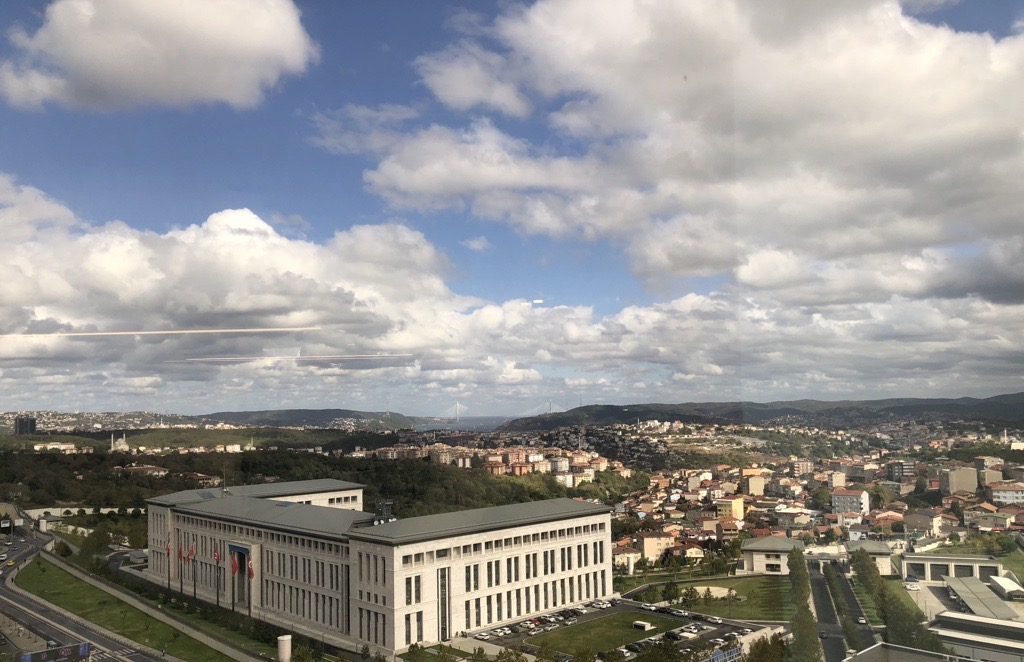 View from the All for One office in Maslak, Istanbul
---
what makes someone stay for 10 years?
Rafael: So Ayse, what are some of the most important criteria that you were looking for in a company and made you stay with us for 10 years?
Ayşe: There are many reasons, of course. I can start by saying that after this many years I have grown emotionally invested in All for One. All for One really supported my career advancement. Over the course of more than 10 years, I have taken on several roles as well as new responsibilities. Of course, I also volunteered and was enthusiastic about it.
First Detlef Mehlmann (our General Manager at that time) and now also the other supervisors are always fair with their decisions about our firm. It continues to be the same. If I ever had any dissatisfaction, I could always speak directly to my supervisors. They listened to me properly and took necessary actions to solve my problem.
I also like to work with German colleagues & customers on an international work environment and utilize my skills both in German and English.
Positives, negatives and advice for new comers
Sharina: What would you say that the main benefits of the growth at All for One Türkiye?
Ayşe: In my opinion, through the growth, All for One has secured its place in Türkiye. With this, we also feel secure in our work. Against the fast-changing economy in Türkiye All for One Türkiye tries to take the necessary actions. In addition to the salary, we also receive different social benefits. There are opportunities offered here in Istanbul that are similar to those in Germany, which is very important for an international company. All for One Türkiye has now become a big team, thus, we've become an integral part of the Group.
Sharina: Along with the positives, there must definitely be some challenges as well. What are some challenges you are seeing with the growth of All for One Türkiye?
Ayşe: We are a young team here. That's why many of our colleagues want to develop their careers quickly. For this, we need a clear career model that is also linked to salary increases. Secondly, I can say that the acceptance of Turkish colleagues from All for One Group is still a challenge. There needs to be more cooperative collaboration between all subsidiaries and All for One SE. As third I can mention the communication within the company. We've grown very quickly – not just in Türkiye but also globally as All for One. To make this process smoother, there should be transparent communication from top to bottom promptly.
Sharina: I think with most international companies, communication from top to bottom and also between different locations, countries and subsidiaries can be a challenge.
Rafael: What would your advice be for any new colleagues starting at All for One Türkiye?
Ayşe: I can recommend the new colleagues to be open to new tasks. Taking on new tasks will be great for your self-development as well as further career opportunities. I also recommend them to be patient. In the world of work, nothing changes in a day. Things take time.
Last but not least: Istanbul
Sharina: For our last question, Ayse, could you give us some recommendations for all colleagues who might be visiting Istanbul soon? What are some must-see or must-do things in Istanbul?
Ayşe: There are lots to see in Istanbul. I recommend going to the old town center, see the main mosques, the (Topkapi) Palace. Also definitely spending some time by the Bosphorus. Maybe go to a fish restaurant and enjoy some fish and mezes. Or simply go for some street food. Just experience our culture and enjoy your time here.
Sharina: Sounds lovely! Thank you so much for the recommendations, I took some notes!
Rafael: Same here, Istanbul is definitely on the top of my list for next time I'm traveling.
Sharina: Thank you, Ayse, for your time and this lovely conversation.
Ayşe: Thank you
---
DISCOVER OUR JOB OFFERS
You want to get started in IT consulting and are keen to drive the digital transformation of our customers and implement exciting IT projects? Then take a look at our current job offers at All for One Türkiye.