Is there a perfect way to becoming an SAP consultant? A degree in business informatics, communication skills, a high level of process understanding and SAP consultant certification are often mentioned as skills and steps towards SAP consulting. But the example of my colleague Sven shows how different the paths into the SAP ecosystem can actually be. He is a "classic" SAP career changer. We talked about his professional roots, what he does now and what is important when changing lanes into SAP consulting.

Jochen: Hi Sven, before we delve deeper into the topic of SAP consulting, please describe very briefly where you come from and in which area you joined us.

Sven: Hi Jochen, I'd love to. I'm from the Heidelberg region and joined the All for One Group in April 2022 as a consultant in Finance for S/4HANA Cloud.

Jochen: "Persistence always brings progress!" - does that sentence sound familiar?

Sven: [laughs] Sure, it's on my LinkedIn profile ...

Jochen: What's that all about?

Sven: It's simply part of my conviction to always stubbornly stick to topics that occupy me and just do them instead of thinking back and forth. I think that's the best way to get something rolling.

Jochen: ... like, for example, your new start in terms of your employer and professional image ...

Sven: Yes, exactly ;-)

Jochen: From tax clerk, to accountant, to Head of Finance, to SAP consultant - that's the short form of your professional vita. What made you decide to switch to SAP?

Sven: I have always had an interest in developing myself and there was nothing left for me in the accounting field. That's why I wanted to take some professional time off two years ago and go in search of something new. Then came the lockdown and the first SAP course practically fell into my lap. I quickly fell in love with SAP and decided to embark on a new professional course.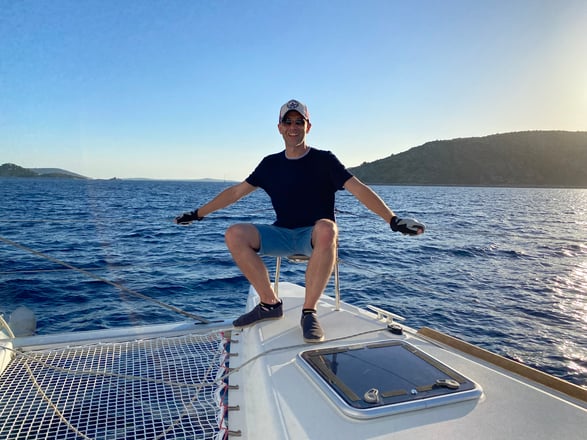 Sven, SAP Finance Consultant

Jochen: Were there any hurdles in making the switch?

Sven: I stood in my own way for a short while and I first went in the direction of key user after I had done my first consultant certification. I wanted to play it safe here (partly because of Corona). But I didn't enjoy that at all and then the change to All for One happened very quickly.
EVERYDAY WORK AS A SAP CONSULTANT

Jochen: Und wie sieht jetzt dein Arbeitsalltag SAP Consultant aus?

Sven: Jeder Tag ist anders, und das ist auch genau richtig für mich! Ich habe vor Kurzem meine ersten Workshops im Bereich Finance für einen unserer Kunden gegeben und dabei einen Riesenspaß gehabt. Ein weiterer Kunde steht bereits in den Startlöchern und hier kann ich dann von Anfang an das Projekt begleiten. Auch im Bereich Ticketbearbeitung bin ich schon aktiv.
---
"I like variety, tricky cases and working together with colleagues to reach the goal."
---
I haven't had so much fun at and with work in a long time!

Jochen: What is your interim conclusion when you compare your job as an SAP consultant with the previous ones?

Sven: Surprisingly, there are a lot of similarities. Identifying and solving customer problems, describing processes, introducing programmes or being involved in them. That hasn't changed with my job change. Another common thread in my professional life is that I teach people something, currently for example how to handle a cloud ERP solution from SAP.

Jochen: Where do you see differences?

Sven: I see big differences in the working environment and especially in the working philosophy. I can work very independently and feel very comfortable in the Heidelberg office. Open space and working where you want are a matter of course here.
---
"I can organise my time in a way that suits me and my projects."
---
That's perfect for the work-life balance and somehow suits me better than the 9 to 5 routine that is unfortunately still the norm in many companies. What I also notice is that there is a tone here that suits me. The atmosphere is positive and the way people talk to each other and work together to find solutions is simply very goal-oriented and pleasant at the same time.
THAT'S WHAT MATTERS WHEN CHANGING
Jochen: From your experience, what is necessary to make a lateral move into SAP consulting?

Sven: I think the most important thing is a positive attitude and the willingness to accept, live and also pass on new things. And of course it is important to be open-minded and not to be afraid of unknown variables. It also can't hurt to think in unusual directions.

Jochen: What else is necessary?

Sven: I think analytically and like to think around corners. That definitely helps in the SAP FI/CO environment. It is certainly also a matter of making it clear to the customer what he really needs instead of telling him what he wants to hear. I always say that there is a solution for everything, even if not everyone likes it. Last but not least, it's the passion for SAP that counts - directed both internally and externally.

Jochen: Our values are important to us. Are there any values that you find particularly important?

Sven: I am a fan of all the All for One values. I can identify most strongly with "Pure Enthusiasm" and "We Are One". I like to be passionate about what I do and I think it's important to have a sense of community. For example, I have been very well received here and I pass this on to my new colleagues. I'm also a good-humoured person and think that fits very well in counselling.

Jochen: The change to SAP consulting was a very conscious decision. Did you still sometimes doubt whether the job change was the right decision?

Sven: I have never had any doubts about changing jobs. There were only a few doubts before I made the final decision.

Jochen: Do you already have any other goals or wishes for your time as an SAP consultant at the All for One Group?

Sven: One wish is to be able to charge e-cars at the locations. One goal is to expand my knowledge even further. The All for One Group also offers a number of opportunities for this. But more importantly, I would like to make a difference in our department, to drive issues forward and to be able to lend a hand across departments.

Jochen: Sven, thank you for the interesting interview!
JOB OFFERS
Do we match your values? Then apply for a job with us. Here you will find all the offers for you >
LEARN MORE ABOUT OUR VALUES
What is important to us? Find out here >